YouTuber
★ YouTube ★
Void Rank 🕳️
Comet Rank ☄️
Tornado Rank 🌪️
Bolt Rank ⚡
Sun Rank ☀️
◆ Beta Tester ◆
Forum Specialist
Member
WHAT'S NEW!
Enjoy a 15% off sale all weekend!
https://shop.skybounds.com/
Outlander Islands:
Speak to the Mayor to travel to a new area located in a mysterious land outside of the Spawn Worlds.
Here you will be able to explore the newly opened Center Area of the Outlander Islands.
Home to many farming crops, ores, AND the NEW CASH COW SLAYER MOB!... Also there's a single Bedrock Ore located here. There's two Bedrock Ores located in the Warzone, and a new Skystone Ore in the Warzone. So PVP homies please enjoy.
New Slayer Mob: Cash Cow
Classified as "Animal" type
Default Drop: Raw Beef | Sell Price: 125 (Cooked Beef, Sells for 250)
Bonus Default Drop: Always gives +100-300 Stars directly to player
Slayer Challenges/Unlocks:
Slay 25 - Mob Drop: Cow Leather

Sell Price: 325

Slay 100 - Mob Drop: Milk Bucket
Slay 500 - Mob Drop: Cow Spawner Shard
Slay 750 - Mob Drop: Cash (Large Fern)

Sell Price: 750

Slay 2,500 - Crafting Recipe: Gemstone Starlord

Sword Enchant that gives the user Stars when Killing Slayer Mobs

Wild Fox: 50 Stars
Bruiser: 75 Stars
Zombie Knight: 100 Stars
Cash Cow: 125 Stars
Evil Bunny: 150 Stars
Wither Witch: 175 Stars
Fire Demon: 200 Stars
Ghoul's Eye: 225 Stars
Vampire: 250 Stars

Slay 5,000 - Mob Drop: Crafting Pages for Economy Recipe: Cash Pile

Sell Price: 25,000
Recipe: 18 Cash, 15 Cow Leather

Slay 100,000 - Trophy Unlock
There's a new Quest located here too! Can you find all 10 Cash Piles?
Rewards:
250k Stars (25k per Cash Pile found) and 2 Cow Spawner Shards on Quest completion.
Gameplay Adjustments:
Max Level Enchant Boost system has been tweaked. It now will also increase your chances of obtaining mid level enchants as well.
The Vampire's Blood Vial Quest was originally intended to give +300 Vampire Kill Stats... Those have been rewarded retroactively and new players will also get that upon Quest completion.
Drifter Immortal Kit
When you purchase/open an Immortal Shard you will be given the specified Kit and have a bonus chance to permanently unlock the iKit for claiming the Kit weekly.
IF YOU UNLOCK THE KIT:
You will be able to summon your kit using
/kit
, then clicking your newly unlocked kit.
IF YOU DO NOT UNLOCK THE KIT:
You will be given all of the items within the kit
once.
Your chance to unlock will increase by 5% for each Immortal Shard you open.
Immortal Shards
can be sold and traded with other players in-game.
Set Bonus:
On death you will keep the Drifter Armor Set AND whatever item you are currently holding in your primary hand.
Defense stats are the same as Iron. Think of this as a pleasant way to drift around the Warzone harvesting resources without the stress of loosing your best Pickaxe or Slayer Sword. Everything else in your inventory will drop on player death.
Items:
Drifter Armor Set
-
2x Gemstone Slots on HELMET, CHEST, and PANTS
Magenta Leather Helmet, Chestplate, Leggings, and Boots
Same defensive stats as Iron.
Drifter Boots
-
4x Gemstone Slots
2 Gemstone Slots used for GEARS and SPRINGS enchant
Kit also includes:
1x Ancient Rune
1x Legendary Relic
16x Golden Apples
8x Vitality Spells
8x Leaping Spells
1x Bird Nest
1x Spawner Spinner (gives 1x random spawner)
1x Ant Farm
1x Buried Treasure
1x Shipwreck
1x Compact Pouch (openable that gives random compact resources)
Drifter Immortal Kit Cooldown: 7 Days
New Gemstone: Starlord
Recipe is Unlocked by Farming 2,500 Cash Cows
Starlord Gemstone will give the wielder the ability to earn Stars when Slaying mobs.
Can be applied to Swords.
Recipe: 1 Gemstone Shell, 192 Cash, 2 Compact Gold, 3 Cash Piles

Bonus Stars:
Wild Fox: 50 Stars
[*]Bruiser: 75 Stars
[*]Zombie Knight: 100 Stars
[*]Cash Cow: 125 Stars
[*]Evil Bunny: 150 Stars
[*]Wither Witch: 175 Stars
[*]Fire Demon: 200 Stars
[*]Ghoul's Eye: 225 Stars
[*]Vampire: 250 Stars
Patch Notes --
Immortal Kit: Drifter
Daily Kit Level 4
Enchantment tweaks (adjusted how the Enchant Level and Max Enchant Level Boosts work)
New main/center Island available on the Outlander Islands (Where the Mayor teleports you)
Net Fishing durability increased (Nets will break less often)
Various bugs have been smooshed

Vampire sword doing proper damage
Sacred crafting actually working
Zombie Knights unlock display was incorrect
Issue that caused gears recipe from sometimes not being craftable
Monday Mini-Update coming out on July 20th --
New Openables (Ant Farms, Buried Treasure etc.)
Giveaways:
Stay up to date with weekly giveaways on both our Twitter and Discord!
Earn anything from Ranks, to Boost Gems and more as new items are released.
But enough about this weeks update, what about the future? What do we the players have to look forward to you might ask? Well here is a slight sneak peak as to what is coming soon, something we have been planning/drawing up for a while and are finally nearing completion on it! GET HYPE!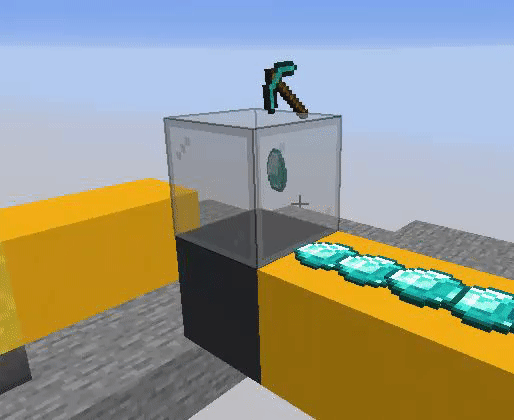 Last edited by a moderator: