DEFENSE SPECIALIST
ADMINISTRATOR
Void Rank 🕳️
Comet Rank ☄️
Tornado Rank 🌪️
Bolt Rank ⚡
Sun Rank ☀️
◆ Beta Tester ◆
Forum Specialist
Member
Joined

Nov 29, 2019
Messages

151
WHAT'S NEW!
Enjoy a 15% off sale all weekend!
https://shop.skybounds.com/
DUELIST - New Immortal Kit
When you purchase/open an Immortal Shard you will be given the specified Kit and have a bonus chance to permanently unlock the iKit for claiming the Kit weekly.
IF YOU UNLOCK THE KIT:
You will be able to summon your kit using
/kit
, then clicking your newly unlocked kit.
IF YOU DO NOT UNLOCK THE KIT:
You will be given all of the items within the kit
once.
Your chance to unlock will increase by 5% for each Immortal Shard you open.
Immortal Shards
can be sold and traded with other players in-game.
Set Bonus:
In PVP you and your enemy will be locked into 1vs1 single combat.
Items:
Duelist Armor Set
2x Gemstone Slots on all armor pieces
Helmet: Battle Trance Gemstone
Chestplate: Evasion Gemstone
Leggings: Evasion Gemstone
Boots: Evasion Gemstone and Springs Gemstone
Dark Yellow Leather with the same defensive stats as Diamond.
Duelist Sabre
Sharpness 2-3 (Random)
Blade Fury Gemstone
Disarm Gemstone
Rage Gemstone
Duelist Bow
Power 1-2 (Random)
Infinity
Velocity Gemstone
Kit also includes:
1x Buried Treasure
1x Treasure Trove
1x Legendary Relic
16x Golden Apples
8x Vitality Spells
8x Leaping Spells
8x Vanishing Orbs
8x Enderpearls
1 Sky Spark or Stardust (Random)
1x Endermite Spawner
1x Compact Pouch (openable that gives random compact resources)
Duelist Immortal Kit Cooldown: 7 Days
Combat Logging
Sick of players logging out of the server when they see you in the Warzone?
This is the update for you.
Logging out while Combat Tagged has long since resulted in your immediate death and loss of items.
However, if you were in the Warzone and were NOT yet combat tagged you could safely log out or exit your game. Now, while you are in the Warzone, if you log out or exit your game a ghost version of your player will appear in your place. You will have 5 minutes to rejoin the server. If you do not reconnect in time that ghost copy will automatically die causing you to lose your items.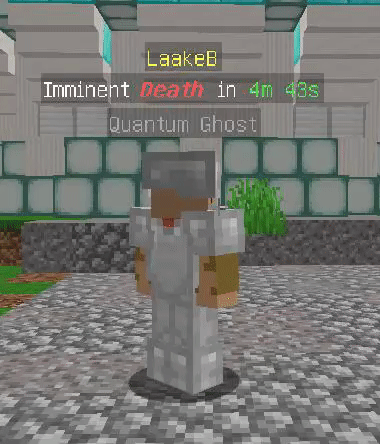 Factory Changes
Auto Crafter no longer requires books. Instead it can use any of your player unlocked Crafting Recipes
Factory Core now saves all items stored inside along with upgrades (bug fix)
Various UI changes to make things easier to understand
Factory Core Auto Sell upgrades go up to 115% Sell Price
Factory Core Storage Capacity and Storage Slot Upgrades prices reduced
Factory Furnace will now teleport items that cannot cook/smelt to the next conveyor belt block (you no longer need to create output/input hopper bypasses)
Machine Factories now have a new Upgrade Tree that allows for finding Rare Openables (Buried Treasure, Bird Nest, Ant Farm and Treasure Trove, Bird House, Ant Colony)
Looting and Fortune on Factory Machines can now reach Level 6
New Boosts


Island Boost

- Increase Machine XP (+25% XP)

Player Boost

- Increased Economy (+10% Stars)

New Utility Recipes


Enderpearls

-

20 second cooldown
Find 9 Enderpearl Utility Pages and Craft the Book to Unlock Recipe:

3 Scute, 2 Obsidian Chunks, 5 Eyeballs, 3 Enderdust
Golden Apples
Find 9 Golden Apple Utility Pages and Craft the Book to Unlock
Recipe:
3 Golden Scallops, 10 Gold Ingots, 5 Apples
New Spawners


Endermite

Requires: Island Level 24

Drops:
Enderdust - Sell Price 575 Stars
Used as an ingredient in Enderpearl Recipe
Panda
Requires: Island Level 28
Drops:
Bamboo
Bamboo Seeds
Raw Panda Meat - Sell Price 325 (Cooked Panda Meat Sell Price is 700 Stars)
Panda Pelt - Sell Price 525
Patch Notes --
Spell Recipes now require much less resources to craft

Malum 5 per stack (15 total)
Magic Essence 3 per stack (9 total)
No longer requires a compact resource instead it is 64 of the required resource

Vanishing Orb recipe now requires only 3 Blaze Rods per stack (12 total)
Farming and Woodcutting Factory Machines nerfed slightly
Combat Logging in the Warzone will place a 5 minute timer on a ghostly version of yourself; if you do not reconnect your copy will automatically die
New Finding Quest - Warzone Signal Fires
Warzone Loot Table has been buffed
Enderpearls added in game and Utility Recipe added
Golden Apple Utility Recipe added
Velocity Gemstone now requires Power 2 (before it needed Power 3 which does not exist currently)
Mining for Buried Treasure and Treasure Troves via Stone/Cobblestone has been nerfed on player islands (was very OP)
Fixed Detection Gemstone
YouTube Ranks have been replaced with a simpler VIP Rank so that YouTubers and Streamers can use the same Rank
New Boosts (Island Boost for Machines +25% XP) [Player Boost for Economy +10% Stars on Sell]
Many Factory adjustments for quality of life

Auto Crafter no longer requires a book, instead you can select from all of your Crafting Unlocks

Schematic Limits changed and Schematics have been overall buffed to produce more items
Crafting Schematics and Schematic Recipe Unlocks have been removed (was confusing and unnecessary; now you simply need to find the actual placeable Schematic for your Island)
New Spawners - Endermite and Panda
Combat Tag timer increased from 15 seconds to 20 seconds
Duelist Immortal Kit
Duel Arena was scheduled for release today, however, due to unforeseen issues we have postponed it until further notice.

Giveaways:
Stay up to date with weekly giveaways on both our Twitter and Discord!
Earn anything from Ranks, to Boost Gems and more as new items are released.
Last edited by a moderator: